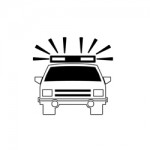 Fight Your Traffic Tickets with Knight Legal Solutions!
Knight Legal Solutions specializes in fighting your traffic tickets in the Sault Ste. Marie, Ontario region. In most cases, when you retain Knight Legal Solutions, you will not have to attend court, we will do all the work for you at an affordable price.  Give us a call today at 705-255-8520 for your free consultation!
---
My fine is low, why shouldn't I just pay it?
By paying your fine, you are pleading guilty to the offence. Doing this you are at risk of having higher insurance premiums, receiving a licence suspension, or in some cases even face jail time.  Knight Legal Solutions fights for you to reduce fines and demerit points to help reduce future insurance premium increases.
What are the benefits of fighting your traffic ticket?
Most people who receive a traffic ticket do not realize the serious financial implications that come along with it.  Most insurance companies will increase rates when there are several minor, or even just one major infraction.  Knight Legal Solutions will fight for you to help reduce fine amounts, demerit points, and gain you a longer amount of time to pay your fines.
---